Blackadder is British cult classic Television Series starring Rowan Atkinson. Although each series is set in a different era, all follow the fortunes (or rather, misfortunes) of Edmund Blackadder (played by Atkinson), who in each is a member of a British family dynasty present at many significant periods and places in British history. It is implied in each series that the Blackadder character is a descendant of the previous one, although it is never mentioned how any of the Blackadders manage to father children.
This funny series has many fans around the world, myself included. Here are some funny quotes from the Black adder. This is second part of the series, for first part of quotes: Click Funny Blackadder Quotes: Part 1.
Funny Quotes from Blackadder: Part 2
Percy: I'd like to meet the Spaniard who can make his way past me!
Blackadder: Well, go to Spain. There are millions of them.
Blackadder: Tell me, young crone, is this Putney?
Young Crone: [cackling] That it be! That it be!
Blackadder: "Yes, it is," not "That it be". And you don't have to talk in that stupid voice to me, I'm not a tourist! I seek information about a Wise Woman.
Young Crone: The Wise Woman? The Wise Woman?!
Blackadder: Yes. The Wise Woman.
Young Crone: Two things, my Lord, must ye know of the Wise Woman. First… she is a woman! And second… she is…
Blackadder: Wise?
Young Crone: [normal] You do know her, then?
Blackadder: No, just a wild stab in the dark – which, incidentally, is what you'll be getting if you don't start being a bit more helpful! Do you know where she lives?
Young Crone: 'Course.
Blackadder: Where?
Young Crone: 'Ere. Do you have an appointment?
Blackadder: No.
Young Crone: Oh… you can go in anyway.
Blackadder: Thank you, young crone. Here is a purse of monies… [she tries to grab it] which I'm NOT going to give to you. [walks in]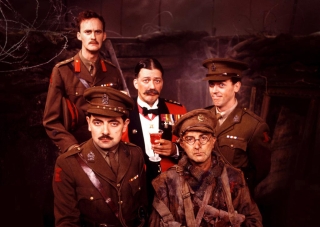 Wise Woman: Hail Edmund, Lord of Adders Black!
Blackadder: Hello.
Wise Woman: Step no further, for already I see thy bloody purpose. Thou plotest, Blackadder! Thou would be king, and drown Middlesex in a butt of wine! [cackles madly]
Blackadder: No, it's much worse than that. I'm in love with my manservant!
Wise Woman: [nonchalant] Well, I'd sleep with him if I were you.
Blackadder: What!?
Wise Woman: When I fancy people, I sleep with them. I have to drug them first, being so old and warty.
Blackadder: But what of my position, my livelihood!?
Wise Woman: Very well, then there are three solutions, three cures for thy ailment. The first is simple: Kill Bob!
Blackadder: Never!
Wise Woman: Then try the second: kill yourself!
Blackadder: And the third?
Wise Woman: The third is to ensure that no one else ever knows.
Blackadder: Ah, that sounds more like it! How?
Wise Woman: KILL EVERYBODY IN THE WHOLE WORLD! [cackles madly]
Blackadder: [disturbed and confounded] Uh-huh.
Lord Flashheart: Thanks, bridesmaid, like the beard. Gives me something to hang onto!
Blackadder: To you, Baldrick, the Renaissance was just something that happened to other people, wasn't it?
Percy: May I come too, my lord?
Blackadder: No, best not. People might think we're friends. Better stay here; bird-neck [Percy's new look] and bird-brain [Baldrick] should get along like a house on fire!
If you have not seen the series, you can check out details here;

Black Adder: The Complete Collector's Set
Black Adder Remastered V: The Specials
The Black Adder
Black Adder II
[Queenie wishes to see Lord Farrow, who has supposedly been executed]
Blackadder: Percy, this is a very difficult situation.
Percy: Yes, my lord.
Blackadder: Someone's for the chop. You or me, in fact.
Percy: Ah, yes…
Blackadder: Let's face facts, Perc: it's you!
Percy: [nervously] Except, ex-cept… I may have a plan!
Blackadder: [dryly] Oh, yes…
Percy: Yes, eh… How about if we get Lord Farrow's head and body and we take it to the Queen. Except, ex-cept… just before we get in, we start shouting and screaming, and then we come in saying "We were just on our way when he said something traitorous, and so we cut his head off in the corridor just to teach him a lesson!"
Blackadder: Pathetic! Absolutely pathetic! Contemptible! Worth a try!
Blackadder: To you, it's a potato. To me, it's a potato. But to Sir Walter bloody Raleigh, it's fine estates, luxury carriages and as many girls as his tongue can handle! He's making a fortune out of the things: people are smoking them, building houses out of them… they'll be eating them next!
[After Queenie's poor pirate imitation]
Melchett: [obviously humouring her] I beg your pardon, Your Majesty, but I was hoping to greet the gallant young sailor who hallooed me as I came in. Perchance he has hauled anchor and sailed away?
Queenie: [giggling] No! It was me!
Melchett: Majesty! Surely not!
Blackadder: [to Melchett] You utter creep.
Captain Rum: Truth is, I don't know the way to the Cape of Good Hope anyway.
Blackadder: Good Lord! What were you going to do?!
Captain Rum: What I usually do: sail round and round the Isle of Wight until everyone's dizzy and then head for home!
Blackadder: [smiles] You old rascal. Still, who cares? The day after tomorrow, we shall be in Calais. Captain, set sail for France!
[Everyone cheers. Cut to "The Day After The Day After Tomorrow", when everyone looks less excited.]
Blackadder: … So, you don't know the way to France either?
Captain Rum: No. I must confess that too.
Blackadder: [turns to Percy and Baldrick] Bugger.
Be sure to check out The Black Adder
series, if you have not already done so yet.
If you are fan of the series, check out other DVDs starred by Funnyman Rowan Atkinson.
Source: Blackadder DVD, wikiquote
Image source: Wikipedia